Valentine's Day Grilling For Two
With Valentine's Day right around the corner, there's never been a better time to start preparing for this special holiday. For many, booking a reservation at an upscale restaurant is the first idea that comes to mind. And while going out to eat and enjoying a nicely-prepared definitely takes the hassle out of having to cook your own meal, there is something about cooking your own meal for your special someone that makes it all the more appreciating.
Let's take a quick look at a few Valentine's Day Dinner ideas you should know when it comes to Valentine's Day Grilling For Two.
Picking the Perfect Recipe
Before you concern yourself with location, lighting, outdoor entertaining, and seating, you first need to focus on the menu. What is a meal that you're sure both you and your special someone will enjoy? Are you leaning toward pasta, an All-American Burger, a soup of some sort, or even a juicy steak? This is something you can choose on your own or talk with your special someone about beforehand. One meal option that you can't go wrong with is a grilled Filet Mignon.
If you're a newbie to grilling steaks, you'll definitely want to keep things easy when it comes to Valentine's Day Grilling For Two. Check out the easy-to-follow Grilled Filet Mignon recipe below that comes with a side of Grilled Vegetables. Do keep in mind that the recipe below actually whips up enough food to serve four people. You can follow the recipe exactly as is to ensure the two of you have plenty of leftovers, or you can divide everything by two.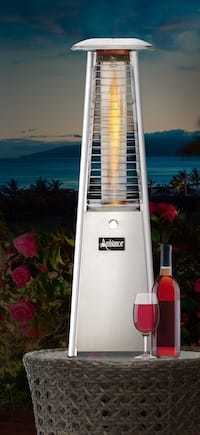 Total cooking time is 19 minutes, with a total prep time of only seven minutes, and cooking time is 12 minutes.
Ingredients You Will Need
2 teaspoons of sea salt
2 teaspoons of coarse ground black pepper
4 filet mignons (each filet should be about 1 3/4-inch thick)
1 tablespoon of avocado oil (or grapeseed oil)
Cooking Your Meal
Preheat the gas grill to high heat
Mix salt and pepper together and rub on both sides of each piece of the filet mignon
Cook steaks on well-oiled grill grates while using your avocado oil as a high smoke point oil
Cook steaks on each side for five to six minutes for well-done (cooking them less on each side depending on your preferences)
Remove steaks from grill and let sit for five minutes
While cooking the steaks, wrap your vegetables in aluminum foil and grill them to the side of the steaks for about 10 minutes. If you want, you can also prepare baked potatoes on the grill. Poke them with holes and wrap them in aluminum foil, as well. Potatoes take much longer to cook on the grill than steaks and veggies, so you'll need to start them about an hour before your steaks.
Once everything has reached your preferred point of wellness, sit it to the side until ready to serve. Ideally, you'll keep everything on your PGSgrill with it turned low or on a warming setting to keep the food warm until it's ready to be served.
Outdoor Table Setting Ideas
Now that you have the meal side of things figured out, it's now time to ensure the outdoor seating area reflects a warm and romantic atmosphere. After all, Valentine's Day is a day that's meant to allow two people to reflect upon their own commitment and love for one another. To set a romantic mood, consider using an Ambiance Mini table top fire feature. You'll also want to ensure the outdoor area where you'll be eating is plenty warm and comfortable. Even if it's rather chilly outside, you can keep things warm by using a patio heater. Just make sure you safely use any Ambiance fire feature and patio heater. You can read the instructions that come with them to ensure you're using them safely.
Enjoy your Valentine's Day for Two!