Top 6 Reasons Property & Apartment Managers Select PGS T-Series Gas Grills
Attracting reliable tenants to an apartment of community living complex tasks managers with delivering quality services and amenities. And, good-paying renters bring certain expectations to the table.
These typically include meticulously cut lawns, finely manicured gardens, swimming pools with perfect pH balances, and other amenities. At the end of the day, these and other items that were once considered value-added have become standard practice. That's why savvy property managers now look to include quality of life enhancements such as outdoor gas grills.
But apartment complex owners and the management teams that make decisions about purchasing products such as stainless steel gas grills are barraged with marketing campaigns and seemingly discounted brands. In the current landscape of mass-produced imported grills, it's exceedingly difficult to home in on the best-suited commercial outdoor grill to meet tenant needs and expectations.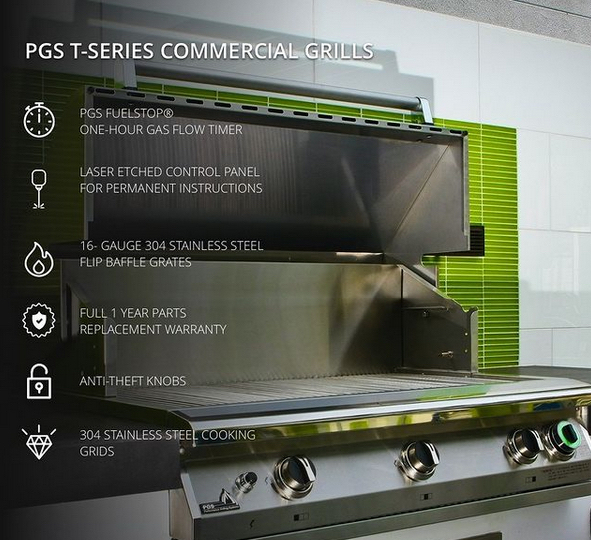 Given community living facilities need to keep pace with others in the apartment sector to buoy rents, it's essential to secure an industry-leading commercial product. Natural gas and liquid propane PGS T-Series grills are designed to check all the boxes property managers require. If you are interested in adding an outdoor gas grill or replacing an existing one, these are six reasons to consider a PGS T-Series grill.
1: One-Hour Gas Flow Timer
Perhaps the two leading reasons that give responsible property managers and apartment complex owners pause stem from gas grill safety and expense. These issues sometimes keep people awake at night with worries an unsuspecting child will get injured by touching a gas grill that wasn't turned off.
The thought an outdoor barbecue could run through an entire portable propane tank is not necessarily the least wasteful outcome. When commercial grills such as the PGS T-Series are fixed in place, it's not uncommon to connect them directly to either a propane or natural gas line. That means the grill can run non-stop unless someone remembers to shut it off or the unit has a shut-off timer. The PGS T-Series comes with a standard 60-minute gas flow timer that eliminates the worries of responsible property managers and owners.
2: Laser-Etched Control Panel for Permanent Instructions
Experienced business professionals learn that the majority of innocent mistakes are due to human error. Everyday people get distracted or sometimes try to wing it when instructions are not available. The last thing a property manager wants is someone flying by the seat of their pants when using an outdoor barbecue grill on the grounds.
The T-Series line delivers between 30,000 and 90,000 BTUs, depending on the model. With that level of consistent heat generation, it's essential that grilling enthusiasts understand the lighting process and other fundamentals. All the T-Series models come with permanently etched control panels that ensure your community members won't make a misstep. That includes not singeing their hands by trying to light the gas grill burners directly. The clearly marked control panel points out the T-Series grill enjoys matchless ignition.
3: The 16-Gauge 304 Stainless Steel Flip Baffle Grates
When property managers see data such as "16-gauge 304 stainless steel," that information does not necessarily resonate at first blush. Wide-reaching grill products make claims the unit is durable and reliable.
In terms of grill manufacturing standards, 16-gauge 304 stainless steel ranks among the best possible materials used. Quality outdoor gas grills employ this level of rugged, durable material to ensure longevity. The PGS series meets or exceeds industry standards in this regard.
But the rub is that many grill manufacturers only leverage high-quality steel or heavy cast aluminum for the exterior construction. The lid and sides may use 304 stainless steel or sturdy cast aluminum, but many of the accessories and moving parts do not. The designers of PGS T-Series grills now include baffle grates using 16-gauge 304 stainless steel. This innovation delivers two perks that property managers typically might not gain elsewhere.
The first is that employing top-tier materials in the baffle grates increases their reliability and longevity. The second is that maintenance personnel won't need to brush them clean. Flip baffle grates need only be turned over, and the intense heat self-cleans them.
4: Full 1-Year Parts Replacement Warranty
Intelligent decision-makers often play devil's advocate when making a major purchase. On the one hand, PGS Grills leverage industry-leading materials and design innovations that ensure their longevity. On the other hand, the T-Series also comes with a 1-year parts replacement warranty. Offering a warranty may seem almost counterintuitive on the surface. The reality of using any product is that unforeseen circumstances can result in damage.
Consider the hypothetical situation that a new tenant decides to reposition a cart-mounted T-Series unit and topples it down a short flight of stone stairs. Imagine a severe weather event that causes a hard impact to your newly purchased PGS Grill. In many ways, the 1-year warranty isn't necessarily offered because the manufacturer believes the parts will wear out. The warranty is more like an insurance policy because, well, stuff happens. Isn't it better to have a warranty and not need one than to not have one and need it?
5: Anti-Theft Knobs
Anyone who has owned a cheaply produced grill understands the knobs can be fairly easy to remove. Once they disappear, you have to either strain your fingers to control the gas-flow settings or get a pair of pliers. Neither is an enviable solution.
It's not unusual for miscreants and pranksters to sometimes decide to swipe gas grill knobs for the sake of annoying users. But they find out quickly that commercial T-Series outdoor gas grills employ anti-theft knobs to thwart their antics. Although they might not find the anti-theft knobs amusing, your tenants will enjoy seamless use, and you won't need to purchase another set.
6: The 304 Stainless Steel Cooking Grids
The commitment to durable stainless steel in commercial T-Series models provides property management personnel and tenants excellent benefits. The 304 stainless steel used to construct the cooking grids ranks among the easiest to clean and deters rust.
Although outdoor gas grills are widely embraced by apartment community members, they tend to remain idle during inclement weather. A cold snap or week of spring rain typically keeps people inside until the next beautiful day. When it arrives, the stainless steel grids are ready to roll. Integrating this trusted material also ensures the grids will last a lifetime.
Apartment complex owners and managers make decisions about capital investments on an ongoing basis. To achieve a living environment that delivers top-tier amenities and value-added benefits, stainless steel barbecue grills are fast emerging as a standard option.
By that same token, renters are more inclined to generate positive online social media posts and word-of-mouth recommendations when ownership provides an industry-leading model. Commercial PGS T-Series grills deliver wide-reaching benefits for residents and management alike. Their durable construction and thoughtful innovations routinely garner high marks and satisfy the needs of reliable, good-paying tenants.