Prepare A Complete Mardi Gras Feast On Your Outdoor Patio Grill
Mardi Gras season kicks off on Twelfth Night and revelers embrace costume parties, beads-sharing, and delicious Cajun classics on Fat Tuesday. If you're not down on Bourbon Street, hosting a get-together featuring Creole cuisine can be best accomplished on an outdoor patio grill. And if you possess a grill with rotisserie burner, there's virtually no limit to your big bash meal options. These are ways an outdoor patio grill can bring your Mardi Gras-themed festival to fruition.
Grill Top Classic Cajun & Creole Dishes
There are plenty of advantages to utilizing an infrared rotisserie burner when planning a Mardi Gras event. You will be able to prepare a classic Cajun pork roast on the spit that locks in the juice and accentuates the Louisiana-style seasoning. This is a simple recipe that delivers that "wow" factor needed to pull off a memorable Fat Tuesday.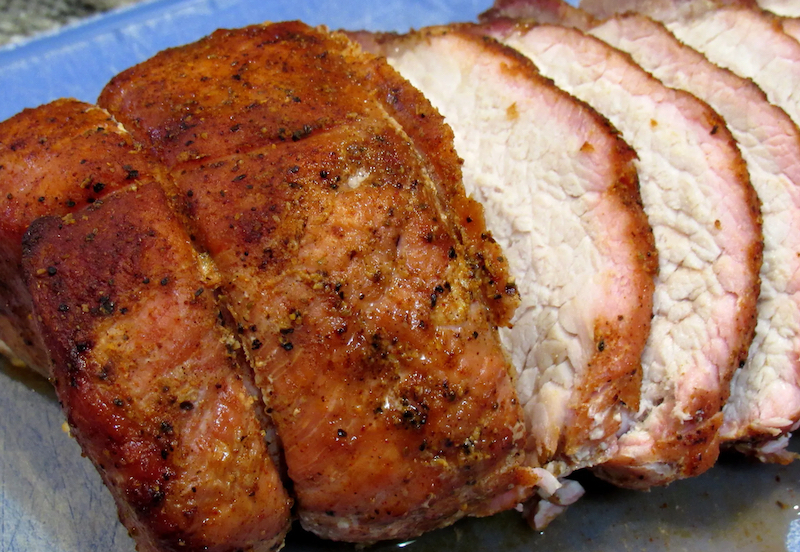 Cajun Pork Loin
1 Pork Tenderloin
3 Tablespoons Brown Sugar
¾ Cup Ketchup
1 ½ Tablespoons Chili Powder
1 Teaspoon Garlic Powder
1 Teaspoon Sea Salt
1 Teaspoon Dried Thyme
2 Tablespoons Hot Sauce (of choice)
2 Tablespoons Red Wine Vinegar
1 Teaspoon ground coriander
Combine all the ingredients in a bowl and then rub the sauce onto the tenderloin. Let it sit in the refrigerator for about 4 hours. Remove and baste in the marinade twice.
Set the infrared rotisserie burner to medium heat and insert a meat thermometer into the pork loin. Place it on the spit and remove it when the internal temperature reaches 150 degrees. Cover with tin foil for about 15 minutes before slicing. You will find the center tender and juicy, with the outside crisp and flavorful. That's why an outdoor grill with rotisserie burner is the perfect option for preparing Cajun pork loins and other thick cuts.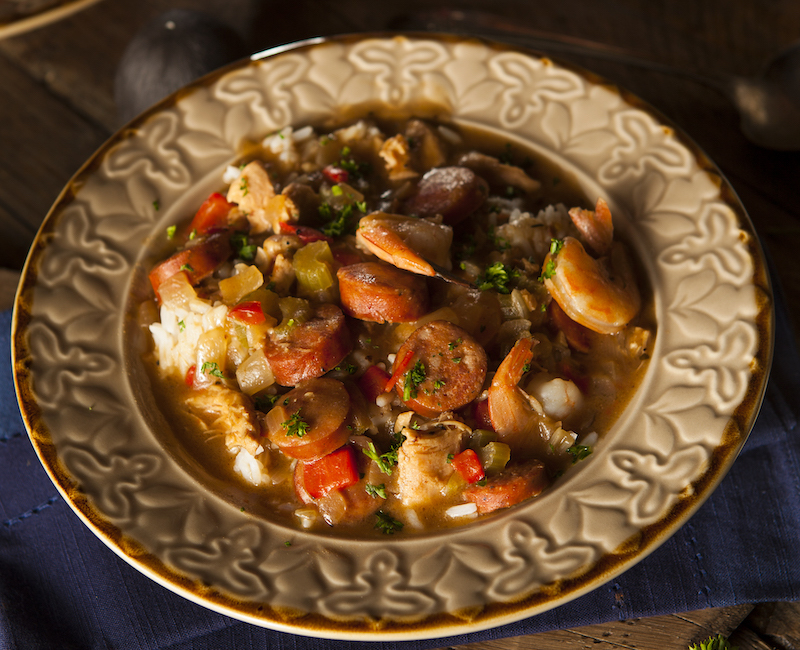 Shrimp and Sausage Gumbo Recipe
It's amazing how easily Mardi Gras musts can be prepared on even a space-efficient pedestal grill with lid or stainless steel model used as an outdoor kitchen centerpiece. Shrimp and sausage gumbo ranks among the classic Louisiana specialties. This holds particularly true along Louisiana's Gulf Coast in parishes such as Cameron, Vermillion, Iberia, Orleans, and Plaquemines, among others. That's where local chefs enjoy fresh shrimp right off the boats. Regardless of where you get your shrimp and sausage, you can emulate that Cajun-Creole flavor using an outdoor patio grill.
1 ½ Pounds of Spicy-Smoked Sausage
2 Pounds Peeled De-veined Raw Shrimp (Medium Size)
½ Cup Butter
½ Cup All-Purpose Flour
2 Cups Chopped Onions
2 Cups Chopped Red Peppers
3 Cups Chopped Okra
2 Bay Leaves
2 Teaspoons Thyme
1 Teaspoon Coarse Ground Black Pepper
½ Cup Chopped Celery
¼ Cup Chopped Scallions
4 Fresh Garlic Cloves (Minced)
64 Ounces Chicken Broth
14.5 Ounces Diced Tomatoes (Fresh or Canned)
3 Teaspoons Sea Salt
1 Teaspoons Worcestershire Sauce
3 Teaspoons Hot Sauce of Choice
Serve Over White Rice
Grill the sausage over direct medium heat to brown on all sides and lock in the flavor. Remove and slice it to your liking. Place the butter and flour in a Dutch oven and whisk over medium heat on a side burner or the grill for about 20 minutes. It will begin the brown slightly.
Set the shrimp aside and add the chicken broth and mix in all the remaining ingredients, except the shrimp. Bring to a full boil and then let simmer only partially covered for 2 hours on a side burner if available. Remove the bay leaves and add the raw shrimp. When the shrimp appears pink, remove the Dutch oven and serve warm over rice.
Fried Okra Side Dish
For those who are not necessarily familiar with Southern cuisine, fried okra is widely considered a staple in the Big Easy. Abundant at farms and backyard gardens, okra is relatively easy to prepare and rounds out the Mardi Gras theme.
1 Pound of Okra (Cut into Half-Inch Pieces)
1 Cups All-Purpose Flour
1 Cup Cornmeal
1 ¼ Cups of Buttermilk
1 Teaspoon Sea Salt
1 Teaspoon Garlic
1 Teaspoon Black Pepper
½ Teaspoon Cayenne Pepper
Vegetable Oil
One Cast Iron Skillet
Paper Towels
Thoroughly mix all the ingredients in a large bowl, except for the flour, vegetable oil, and okra. Pour vegetable oil into a skillet and place on medium grill or side burner heat. Place flour on a wide plate. Dip the okra into the wet mixture and then roll in flour. Place okra into hot vegetable oil and turn as needed, usually 8-10 minutes total. Remove and place on paper towels to collect excess oil. Serve warm.
These Mardi Gras menu items are examples of what a backyard chef can accomplish with a high-quality grill and infrared rotisserie burner. You can also grill traditional crawfish or tweak a New England clam boil NOLA-style. The key is having an outdoor patio grill that provides reliably consistent heat, free of flare-ups, and enough direct cooking space to keep large groups well-fed.
Top Outdoor Patio Grill Line for Fat Tuesday Parties
The PGS Legacy series is considered an industry-leading Outdoor patio grill line because it delivers ample cooking space to handle large parties and multiple Cajun and Creole specialty dishes. A Legacy grill with a rotisserie burner also opens the door to classic pork loins, whole chickens, veggie kabobs, and other dishes. Installed as a space-conscious pedestal grill with lid or outdoor kitchen centerpiece, Legacy grills have a renowned reputation for durability, heat consistency, and options such as side burners. These are three models to consider for Fat Tuesday and other exciting food events.
PGS Legacy Newport Grill (S27)
This outdoor patio grill delivers 45,000 BTU, 540 square inches of primary cooking area, and a 200-square-inch warming rack. It can be used as a portable BBQ grill with a liquid propane tank in the cart's base. It can also be fixed in place for a natural gas hookup. Using ceramic "Moon Roks" briquettes ensures even heat distribution for specialty dishes such as shrimp and sausage gumbo.
PGS Legacy Pacifica Grill (S36R)
This grill with rotisserie burner achieves 80,000 total BTUs while providing 720 square inches of primary grilling space. A 260-square-inch warming rack allows aficionados to manage a variety of menu choices and serve everything with perfect timing. It comes with an infrared rotisserie burner for large cuts of beef, pork, and kabobs. Typically fueled by liquid propane for cart-mounting options, the Legacy S36R can also be fixed in place for natural gas.
PGS Legacy Big Sur Grill (S48R)
The stainless steel grill called Big Sur offers wide sweeping direct grilling space of 960 square inches, another 355 for warming, and a 12,000-BTU infrared rotisserie burner. This industry-leading outdoor patio grill delivers 102,000 BTU of evenly distributed heat. With four distinct burners, it gives grilling enthusiasts the chops to deftly handle menu choices associated with Mardi Gras, Thanksgiving, Fourth of July, and feasts of all kinds.
Big Sur, like other Legacy grills, can be accessorized with side burners for simmering, warming, and making okra and dips, among others. Outfitting a PGS Legacy grill with a side burner also simplifies readying white rice to serve gumbo over. These Made in USA outdoor patio grills come with excellent safety features and enjoy extensive warranties.