Enjoy a Minimalist Thanksgiving Dinner
The nation's finest holiday, (in our opinion), is just around the corner, and you can bet we're not rushing to put up Christmas decorations here at the AEI Corporation – not until Thanksgiving has been thoroughly celebrated and appreciated. Giving thanks is a family tradition that goes back for many years. It's a time to show our love and appreciation to our loved ones, to teach children what we value most in this world, and to grow in wisdom.
That's just one reason why we have put a great deal of love and effort into making sure our PGS A Series grills are powerful, durable, reliable, and beautiful. Whether you choose a PGS grill that's powered by liquid propane or natural gas, you can rest assured that you will be getting a grill made in the USA, a grill that is built-to-last, and the perfect outdoor appliance to enable you to contribute to the beautiful tradition known as Thanksgiving.
PGS A Series grills are ideal for grilling all year long. With high-quality, weather-resistant parts and materials and many ways to store them- you'll be able to use your grill even in inclement weather as long as you have a nice, partially enclosed patio. What's more, there are multiple mounting, installation, and storage option and OEM parts to make care and maintenance easy.
Thanksgiving Smoked Turkey Leg Recipe with PGS A Series Grills
Bearing all of that in mind, we thought it would be nice to share our favorite smoked Thanksgiving turkey legs recipe to help make this year's celebration more special than ever. Thanksgiving is a wonderful time for friends, food, and family – but we would be remiss to ignore the fact that it can be a bit stressful. Much of that stress stems from the bottleneck situation when using a kitchen of limited size. By adding a PGS A Series grill to your toolkit, you'll get greater cooking capacity and the ability to add greater variety to your Thanksgiving spread.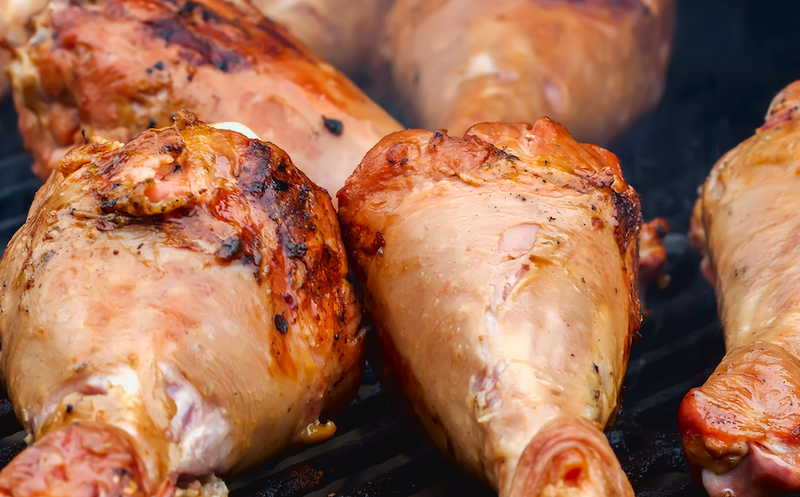 The following smoked turkey leg recipe from TasteOfHome.com has been altered a bit to suit our grilling tastes. With experience, you'll be able to make this and similar recipes your own and bring home-grown flavor to your Thanksgiving grilling. Here's the original recipe* for your reference.
Thanksgiving Smoked Legs
Ingredients
½ cup of melted butter
2 teaspoons of sea salt
2 teaspoons of garlic powder
2 teaspoons of seasoned salt
1 and ¼ teaspoons of paprika
1 and ½ teaspoon of ground ginger
1 teaspoon of crushed pepper
½ teaspoon of dried basil
½ teaspoon of Cayenne pepper
1 turkey legs (1 & ½ pounds each)
3 cups of soaked applewood** chips
Notes on seasoning & smoking
* Our recipe can be expected to be about twice as spicy as the original Taste of Home recipe. We doubled the pepper and called for the use of ground pepper for a richer flavor. We also increased the Cayenne pepper by 25%. If you prefer a milder recipe, use the original recipe, though we still recommend using crushed peppercorns rather than ordinary pepper. (It makes a big difference.) For a medium level of spiciness, use an amount of these ingredients that strike a balance between these two recipes.
** Applewood smoke chips, as called for in both the Taste of Home version and ours, is an excellent choice for adding a light, delicate, and fruity smokiness to the meat. It's nice for the season, but you are encouraged to try other types of smoke-flavoring chips to suit your taste. Consider the following;
Cherry: for a mild, sweet flavor
Peach: a mild, sweet flavor, and a southern favorite
Maple: mild and sweet, with a robust touch
Pecan: another holiday favorite, it is slightly spicy and rather bold
Ash: a sweet and nutty flavor that is well suited to the holiday
For a more traditional (but less seasonal) BBQ flavor, try;
Alder: gives a subtle, musky character to the meat
Mesquite: a strong flavor that is guaranteed to please
Hickory: a BBQ classic that will never let you down
Oak: a medium to heavy flavor that is as reassuring as it is rich
Directions
1. Combine the first nine ingredients in a small bowl and add melted butter. Brush your turkey legs with the mixture and let it rest for four minutes.

2. Add your wood chips of choice to the grill (See Make a Smoking Packet below). Place your turkey on the grill rack. Grill the turkey over indirect medium heat, covered, for 40 to 45 minutes. Use a meat thermometer to monitor temperature and remove when the internal temperature reaches 175 degrees Fahrenheit. Turn your turkey legs every four to six minutes during the cooking time.
Make a SMOKING PACKET
Take a square of heavy-duty aluminum foil and put a hand full of soaked wood chips in the center. Close the foil around the chips and then poke a few holes in the top with a knife or fork to allow the smoke to escape the packet. Place the packet over direct heat.

No turkey would be complete without cranberry sauce.
Cranberry Sauce Recipe
1 lb fresh cranberries
2 cups water
2 cups sugar
1 tsp orange zest
3 whole star anise
Combine all ingredients in a saucepan over medium heat on your PGS Grill Side Burner. Simmer 10 minutes uncovered. Discard the star anise. Cool and serve.
PGS A Series Grills: A Grill that is Built-to-Last
All of the grilling appliances in the A Series are guaranteed to look great, grill better, and last for many years with proper care and maintenance. With available mounting, covering, and storage options, you'll be able to protect your PGS grill from the elements easily. What's more, with all corrosion-resistant construction and materials, your grill will be well protected even in salty-air environments.

PGS grills are designed and built using an innovative modular design. That way, even if a component does need replacing, you'll be able to remove the part you need, order it from our online catalog, and replace it with ease.

PGS grills also come with a number of extremely valuable safety and anti-theft features that make them some of the most sought-after outdoor residential and commercial grills in the industry. These include an automatic shutoff timer great for public installations.

It's not too late to make this Thanksgiving a world-class-grilling family holiday with these award-winning grills. Get in touch today to learn more and order yours!