Delicious Ribs for a Super Bowl Party
The Super Bowl is the most watched television event in the world each year and it is always a great excuse to gather with family and friends to watch the game, the commercials, and to enjoy each other's company. If you are thinking about hosting a party for the upcoming Rams vs Patriots, there are a variety of factors to consider to make it as enjoyable as possible.
Recipe for Pork Ribs
When you are planning a Super Bowl party, the entire event starts with a great meal and food. One great Super Bowl party recipe that you could follow that could provide your guests with a great meal is pork ribs on your very own PGS grill. This delicious rib recipe is very easy to follow and could help to make your party very enjoyable.
Rub Recipe:
2 Tbps brown sugar
1 Tbps dry mustard
1 Tbps garlic salt
1 Tbps black pepper
1 Tbps paprika

BBQ Sauce Recipe:
2 cups Apple Cider Vinegar
1 cup ketchup
2 tsp Worchester sauce
1 tsp Brown Sugar
1 - 2 tsp chili or cayenne pepper (optional, to add some spice)
Your ribs will require you to first make a rub and a sauce. The rub will need to include two parts brown sugar, one part of mustard, garlic salt, black pepper, and paprika. Once the rub is done, you will want to spread is generously around a rack of ribs. The amount of ribs you will need will vary based on the party size, but you should plan on having at least one rack for every three to four people.

The BBQ sauce will require you to combine two cups of apple cider vinegar, a cup of ketchup, a little bit of Worchester sauce, and some brown sugar. If you are looking to add a little bit of spice, you should add some chili or cayenne pepper.

Once the rigs have been fully prepared, you should throw them on your gas grill or other grill using ceramic briquettes that will allow you to even out the heat. You should set a grill that is at a medium heat of at least 350 degrees. The ribs could take up to an hour and a half to fully cook. Once they appear almost done, you should add some sauce and put them on a higher temperature for another 15 minutes per side.

Once this is done, you should add more sauce and let the ribs sit for at least five minutes before either serving on the rack or slicing. Ribs will go great paired with a variety of sides including potatoes, salad, or even chips.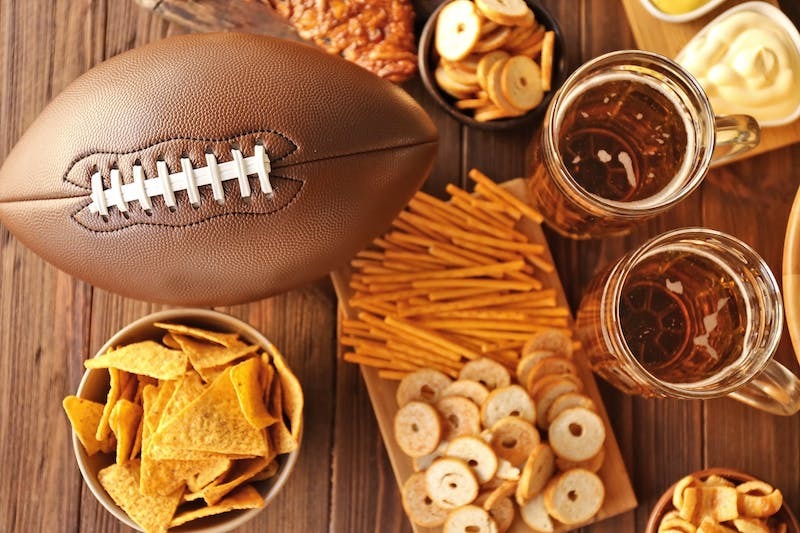 Other Snacks
While the ribs will be a great addition to any party, having other snacks at your Super Bowl party is a necessity as well. Some other great snacks to include are chips and dip, a cheese and meat platter, and even a tray of vegetables. You should also have other guests to bring some of their own favorite snacks to help round out your event.

Any Super Bowl party meal will also need to end with a great dessert. You should focus on serving a dessert that is themed for the big game. This year, looking for giant Rams vs Patriots cookies or making football-shaped brownies could be a great option.

You also need to think about beverages to serve. This year, it could be fun to serve a creative signature drink, but you could also look for beers that come from local breweries around the home cities for the two Super Bowl teams.
Ambiance
When you are planning your party, you should also think about the ambiance and atmosphere. Most importantly, you will want to make sure that you have plenty of room for people to sit. This should include having space in front of the television and also space in your kitchen and other gathering rooms around your home. Any Super Bowl party also needs to have a quality television and audio system. This may include having wireless speakers installed around your living room space to ensure everyone can see and hear all of the excitement as clearly as possible.