Community Managers Build Positive Relations by Using Multifamily Grills to Power Cinco de May Celebrations
As the manager in a multifamily community, Cinco de Mayo and other festivals present an opportunity to bring people closer together. These fun celebrations center on music, cold beverages, and BBQ that can be prepared on a PGS Grill.
From a community manager's point of view, Cinco de Mayo is immensely suitable for building neighborly relations because it's not necessarily about residents' immediate families. It's more about revelry and having a great time as traditional cuts of beef or Mexican cuisine come from the multifamily grills. The benefits of residents enjoying each other's company and feeling like they are part of a community cannot be understated. Inviting them to celebrate Cinco de Mayo in common areas with multifamily grills will create a more desirable living environment.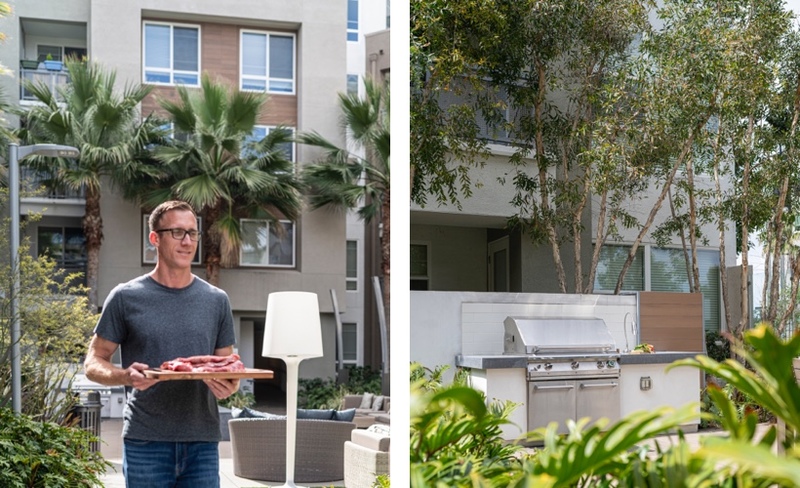 Multifamily Apartment Celebrating Cinco de Mayo Can Build Sense of Community?
One thing to like about Cinco de Mayo, as a residential community event, is that it has a curious history, is a favorite across North America, and is associated with delicious Mexican foods. Consider these fun trivia facts if you want to add a gaming element to your get-together.
Cinco de Mayo is called "El Día de la Batalla de Puebla" in Mexico, which translates to The Day of the Battle of Puebla.
The first Cinco de Mayo celebration spontaneously occurred in California a few weeks after the Mexican Army won the Battle of Puebla. They dressed up in Civil War costumes and threw parties with banquets and music.
President Franklin D. Roosevelt officially recognized Cinco de Mayo in an effort to promote a Good Neighbor Policy with Mexico.
Cinco de Mayo celebrations in parts of Canada involve "skydiving boogie." The event is highlighted by aerial acrobatics and an annual air show. The connection between high-flying acts and May 5th is unknown.
The point for fellow community managers is that you can expand on the activities in unique and, perhaps, quirky ways residents will remember. But the core attraction of the May 5th gathering will ultimately be the smell rising from multifamily grills. That's why it's crucial for residential management teams to invest in one or more top-of-the-line PGS grills.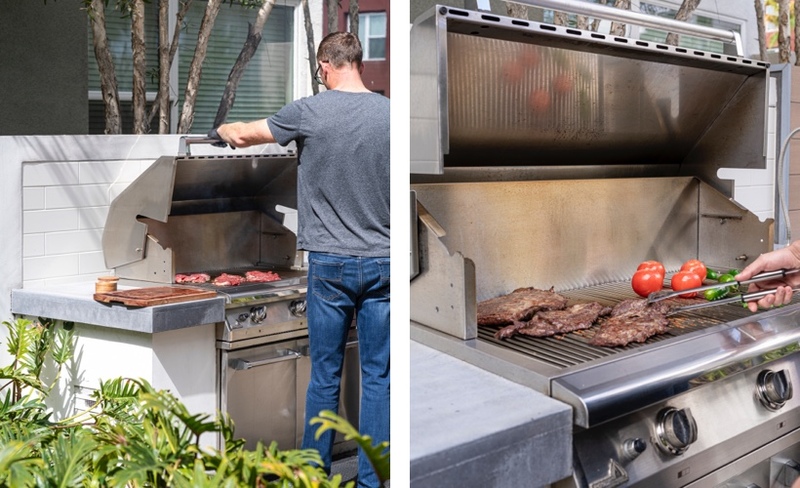 PGS T-Series Grills are Perfect for Multifamily Living
It's important to demonstrate to residents they are getting a fair return on rent or condominium fees. From their perspective, manicured lawns, attractive gardens, lighting, and well-maintained amenities make them feel like they're getting their money's worth. Over the last decade or so, high-quality multifamily grills have become more of an expectation than a value-added element. This commercial PGS grill series has proven a reliable asset that shows property managers are delivering a return on investment.
The S27T PGS Grill
This model gives property managers the flexibility and cooking space bandwidth to seamlessly pull off a food-centric gathering. Using either liquid propane tanks stored in the mobile cart's base or natural gas for a fixed-in-place grilling station generates 45,000 BTUs and delivers 540 square inches of direct cooking area. Known for low-maintenance cleaning and stainless steel cooking grids, this PGS grill includes a one-hour timer that ensures fuel won't get wasted.
The S36T PGS Grill
A more expansive version, this model also comes with a standard one-hour timer and can be powered by liquid propane or natural gas. As a community manager, the decision to select this larger model typically involves the number of tenants and placement. Suitable for a common area where parties are held, it offers 720 square inches of direct cooking area and generates upwards of 67,000 BTUs. The stainless steel baffle grate is essentially self-cleaning. Groundskeepers simply flip it over once cool, and the next use, cleans the cooking grids.
The S48T PGS Grill
This model is usually installed as the centerpiece of an outdoor cooking area. With the same conveniences as the other PGS multifamily grills, it provides 960 square inches of direct cooking space and pushes 90,000 BTUs. This PGS grill best suits common areas with high traffic and large gatherings.
All three of these PGS grills come with laser-etched control panel instructions, anti-theft knobs, battery-powered ignitions and can be equipped with warming racks as well as other accessories. The reality of onboarding these high-quality stainless steel outdoor grills is that property managers bring a "wow" factor residents appreciate.
Preparations for the Taco Party
There are a variety of traditional dishes associated with Cinco de Mayo. These include tamales, carnitas, and breakfast chilaquiles, among others. If this is your first attempt at organizing a community Cinco de Mayo party, it's best to keep it simple. Ask residents to bring a side dish, focus on a taco bar and prepare flank steak on the outdoor gas grill.
Flank Steak Marinade Recipe
4 pounds of flank steak
2 Tbsp. garlic, finely chopped
1/4 cup lime juice
1/4 cup orange juice
1/4 cup of soy sauce
2 Tbsp. Chef Merito Steak & Meat Seasoning
1/4 cup vegetable oil
1/2 Tbsp. freshly ground pepper
1 large white onion sliced
Directions
Place the steaks in a large baking dish and spread the onion slices over the meat.
In a bowl, mix the garlic, lime juice, orange juice, soy sauce, meat seasoning, vegetable oil, and black pepper.
Pour the marinade over the meat; cover with a plastic film and allow steak to marinate for 3 hours in the refrigerator.
Remove the meat from the refrigerator and allow it to come to room temperature, about 20 min.
Preheat the PGS Grill to high heat.
Grill the steak for about 4 min on each side.
Cover it and allow the steak to rest for 10 min before slicing.
Place the steak on a cutting board and slice it across the grain.
If you anticipate guests will require more than 4 pounds of flank steak, increase the marinade proportionally. A reasonably thick cut typically takes about 4-5 minutes per side to prepare on the gas grill at high heat. This is also an opportunity for the property management team to roll up their sleeves and display their grilling acumen and the benefits of a PGS grill.
Wrap the tortillas in aluminum foil and place them on a warming rack or turn down the heat on one side of the gas grill. As the delicious cuts come off the grill, place them on a cutting board and personally carve them for eager taco eaters. Along with freshly warmed tortillas, it's essential to have taco bar fixings such as Pico de Gallo, onion and plenty of guacamole. Side dishes such as rice and beans or cowboy caviar are welcome additions.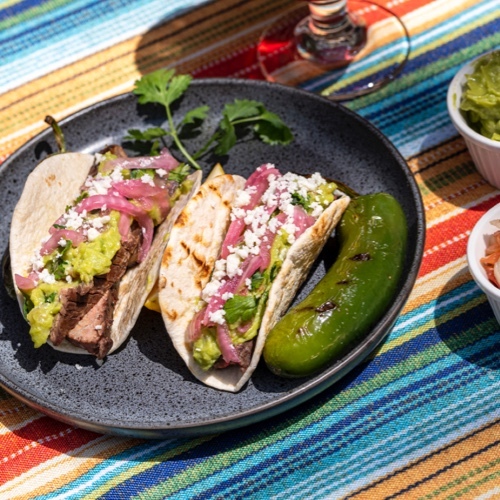 Bring People Together with a Cinco de Mayo Taco Party
Organizing a Cinco de Mayo taco party creates an opportunity for neighbors to get to know each other better. They usually spend time chatting about family, careers, and their experience living within the multifamily environment. The good news for property managers is this conversation is taking place while everyone is having a good time. It doesn't hurt that you're also showing off a key quality-of-life investment.
Don't be surprised if tenants ask questions about the PGS grill and when they can use it to prepare an outdoor meal or host a party of their own. Food, particularly freshly grilled meals, tends to bring people together in a positive fashion.
Benefits of Celebrating Cinco de Mayo by Using a PGS Grill
The excellent food and company of a May 5th celebration will be all the talk for some time. It gives residents a great experience they will pass along to work colleagues and friends in the area. In terms of benefiting a property manager, that word-of-mouth translates into retaining and attracting good tenants.
Property management outfits across North America see the PGS grill as a preferred choice because it is a reliable stainless steel product designed for commercial use in multifamily settings. These grills come with extensive warranties and parts replacement options. Quality and durability aside, community managers like the one-hour timer that conserves energy and easy cleanup. After your Cinco de Mayo party is over, simply flip over the cooking grates, so they can self-clean. Cinco de Mayo can be a big win for everyone involved.